Graphical User Interface (GUI)
\[\]
GlobalBioIm is ditributed together with a user-friendly Matlab interface that allows to intuitively build tailored reconstruction algorithms with minimal effort.
To use it, run the GUI_GlobalBioIm.mlapp file in the GUI/ folder of the library.
Demo Video
This is a temporary explanatory video on how to use the GUI of GlobalBioIm on a concrete example (i.e. multi-channel deconvolution). A more concise, better-quality video is in preparation and will come out soon.
Panels Description
The GUI is composed of four panels that are described in the following sections.
Dialog Boxes
In addition to the four panels, the graphical interface can open (dynamically) additional windows.
Set Parameters Window
Each selected operator, data-fidelity, regularizer, or algorithm comes with its own Set Parameters button. When pushed, a new window opens and displays the list of parameters of the object. The user can then set/modify those parameters. Two examples with a variety of types of parameters are presented below.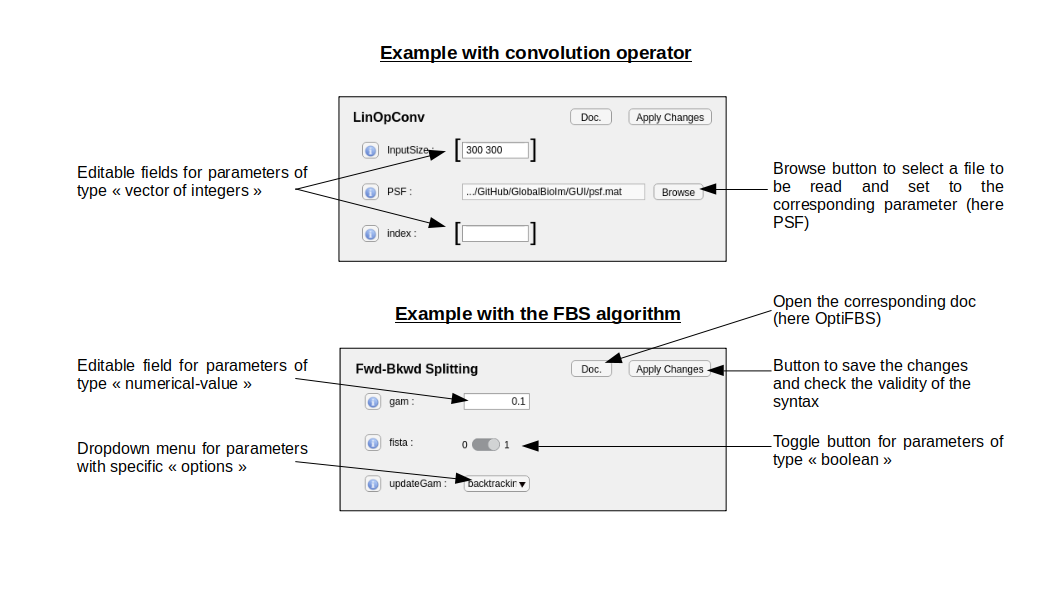 When the button Apply Changes is pushed, the syntax of the parameters is checked. If everything is correct, the Set Parameters window is closed and the parameters are saved. Otherwise a Log window opens as illustrated in the following example.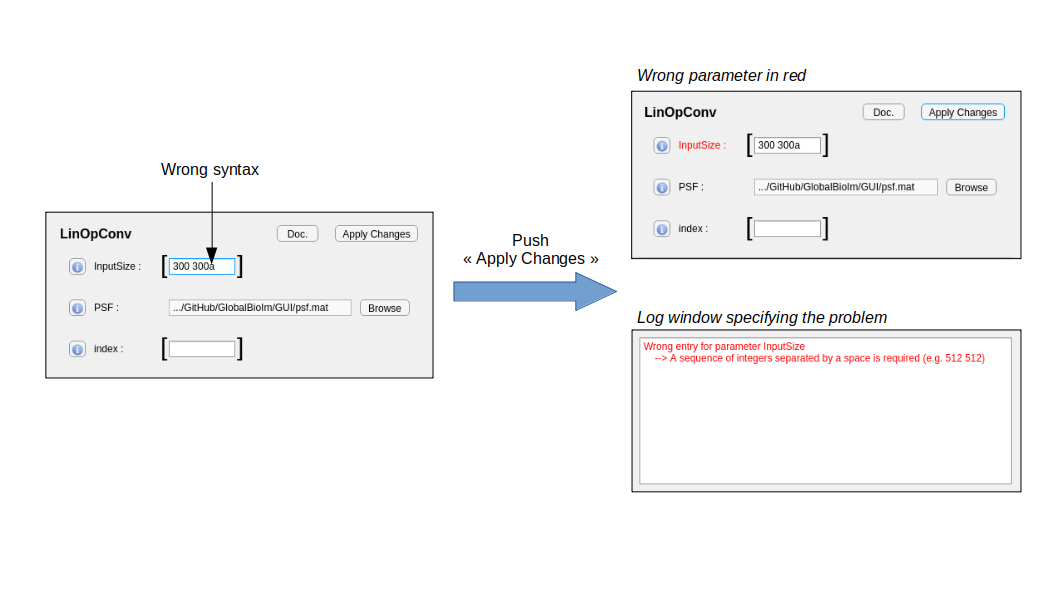 Note
Set Parameters windows can only be closed through the associated Apply Changes button.
Log Window (Check Pipeline)
Whenever the buttons Check Pipeline or RUN are pushed, the complete script (automatically generated) is checked. If errors are detected, a Log window opens with the list of errors. If no error, the script is run (when the RUN button is pushed) or a Log window indicating no error opens (when the Check Pipeline is pushed).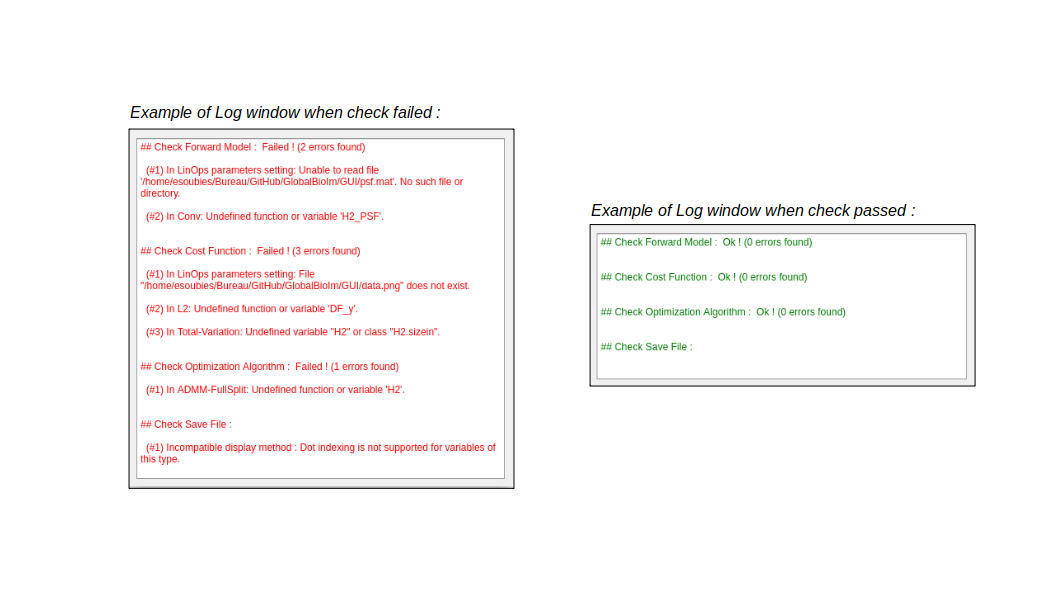 Important
The errors reported in the Log window must be treated in the order they appear. Frequently, a cascade of errors is reported and they can all be resolved by fixing the very first one. In the above example, all the errors are due to wrong paths to the psf (error #1 of foward model) and data (error #1 of cost function) files. Updating these two paths fix all the errors.
Good practice: Fix the very first error and then check the pipeline again. Repeat this as long as there are errors.
Recap Parameters Window
In order to avoid opening all the Set Parameters windows when a user wants to change the parameters of a loaded pipeline, the GlobalBioIm GUI has a Recap of Selected Parameters button. It opens a window that gathers all the parameters of the selected operators, data-fidelity, regularizers, and algorithms. If the discard default parameters option is activated, the parameters that have been let to their default value will not appear in the Recap window (see below).